Bulk Human Hair No Weft 10"- 40" - Eayonhair
Amplify your look with bulk hair. Braid it or keep it flowing; it is your choice. You can even add a bit of detailing to this diverse and complex style by pinning and curling it. Augment your look by decorating your braid with colorful strings, beads, and other accessories.
Shop Human Bulk Hair for Braiding
Add glamour and attractive colors to your personality by using human hair extensions. Shop for Bulk Human Hair for Braiding at eayonhair.com. We offer you a range of gorgeous-looking lengthy and radiant natural-colored hair.
However, choosing and buying bulk human hair for braiding is a confusing task, and it has now been made simple with Eayonhair. We make the best quality human hair extensions, and these can easily be integrated with your natural hair. You can curl, straighten or braid these hair extensions as you do it with your hair.

Why Choose Eayonhair?
Straight, wavy, or curly, whatever your preference is, we at NiaWigs provide you with bulk human hair for braiding that is 100% natural. Made with high-quality human hair, these are designed to provide you with the experience of natural hair. Soft and silky, bulk hair by Eayonhair can be braided as well. You can make a fishtail, rope braid, ladder braid, lace braid, lattice braid, or single braid. You can style your hair as per your taste and requirements. This human hair bulk can be dyed, straightened, and even permed.
Braids made from Eayonhair's bulk human hair keep your hair looking prim and proper at any point in time. This hair is easy to handle and maintain, and they look fresh and clean.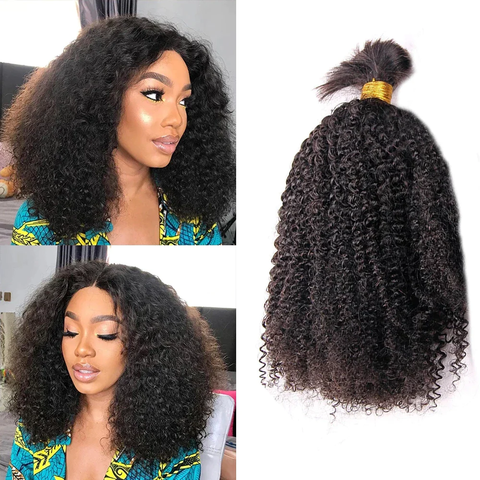 Traveling or on holiday, you can style your bulk hair into braids to look beautiful and comfortable. You can make bigger and wider knots to add more glamour to your style. With Eayonhair, you get the freedom to experiment and choose the style you have been longing for, for so long. So, take a comb and style the bulk hair with beads and charms for special occasions. Add color to make it extravagant. Get creative with NiaWigs' bulk human hair.

Place your order now.




---